Saturday 05 November, 2016.
A ten minute Reiki self-healing treatment will refresh and energize you and fill you with positive, loving energy.
For this exercise, follow my Reiki hand positions in the pictures below to dissolve energy blocks and rebalance your body.
Reiki Self-Healing Treatment
Place both hands over your eyes, close them and then relax.
This helps to restore strained eyes and clear tension headaches.
Move your hands to your temples to clear an overactive or tired mind.
Move your hands round to the back of your head and neck area, dispelling tension and refreshing the brain.
Put your hands on either side of your neck.
This helps the thyroid gland and the area associated with communication.
Place your hands above your breasts in order to help with lymph drainage and the clearing of toxins. This position may generate some warmth.
Finally, move your hands down to the sternum, fingers meeting at the heart chakra. This helps to restore emotional equilibrium.
Finish with your hands below the navel to center yourself.
We recommend that you make a Reiki treatment a regular part of your day for stress relief and just generally living better everyday.
Reiki for Healing: Level I
You are invited to embrace a remarkable gift of healing, the ability to heal with your hands. The Usui system of Reiki is one of the easiest natural healing systems known today. Learn what Reiki is about and how it works. Receive your Reiki Attunement to permanently open this channel in your life.
More Useful Information
Go from Reiki Self-Healing Treatment to Reiki Healing And Stress Relief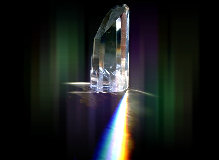 Crystals for Healing: Crystal Therapy in Multi Dimensions by Margaret Loris
Learn to use crystals and stones as energy transmitters of spiritual information and vibration. Discover the secrets of these powerful and dynamic tools by enrolling in this comprehensive online crystal course today! Learn more here.